When I was about thirteen, I went to a basketball camp put on by the University of Kentucky basketball program. One of the assistant coaches put together a competition and said it would be more interesting if we put something on it, meaning a wager. It was true for basketball and it's even more true for Survivor Series matches. If there's nothing on the line in the big matches, there's not much of a reason to care about what you're watching. That's where the show has faltered over the years, which is what we're going to be taking a look at today.
Looking back at the first show, the idea was very simple: Hulk Hogan vs. Andre the Giant in their first encounter since the biggest match of all time. While there's nothing actually on the line, it was something that people would want to see. Granted it probably helped that there were only two pay per views from the WWF that year and this felt like a bigger deal as a result.
After that, the series goes into a hole for a long time due to a lack of anything mattering. Consider the major Survivor Series matches from 1988 thru 1992. The matches that either main evented the shows or were the top level elimination tags on the shows had nothing on the line other than bragging rights. That might have worked for something like Hogan vs. Andre but I need more than a tag team feud or something like the Ultimate Warrior picking the Heenan Family apart without breaking a sweat.
The following year was a bit better with the All Americans vs. the Foreign Fanatics in a feud that is as old as wrestling itself. It didn't help that the match had a bunch of substitutions and wound up being a fairly big mess but you have to take any kind of a story in the main event. The show was better as a result but it would be a rare sight over the next few shows.
For the next stretch, save for the occasional match like the Dark Side vs. the Royals in 1995, there were almost no major Survivor Series matches with any sort of a story. There was even one where the idea was to throw together random teams and see what happened. While that's not the most thrilling concept in the world, it's certainly better than just watching people in matches that were mere pit stops in a regular feud which would be blown off later.
After several years of almost nothing on the line, everything changed in 2001 when it was Winner Take All. Now this was more like it. After months of a horribly rushed Invasion, the WCW/ECW Alliance faced Team WWF with everything on the line in one big Survivor Series match. This would be the start of a new trend and that's the best thing that could happen to the series.
Over the next several years, it was rare to see a big Survivor Series match without something attached. This ranged from the Raw World Title at "Survivor Series 2002" to control of "Monday Night Raw" at "Survivor Series 2003" and "Survivor Series 2004" to a big stage bragging rights match at "Survivor Series 2005". This would be the trend going forward and the show would pick up in importance as a result.
Things would go downhill again fairly quickly after 2005 though, with a long list of matches with little on the line. While the main events often had more importance, mainly due to having a World Title on the line, there were some years where Survivor Series felt like any other pay per view.
Consider "Survivor Series 2010", which had a main event of Randy Orton vs. Wade Barrett for the Raw World Title. The big hook here was John Cena's fate as he would either be fired or freed from Nexus depending on the outcome. Cena would be fired, only to miss a total of NO TIME, rendering the entire concept a big waste of time. It didn't help that this was the third straight pay per view main event with Barrett challenging for the title. With a mostly uninteresting elimination tag earlier in the show, this was almost any standard pay per view.
The same was true the following year, though at least the main event was bigger. "Survivor Series 2011" saw Team Barrett vs. Team Orton for the big namesake match but the main event was a tag match pitting the Rock/Cena vs. Miz/R-Truth. The match itself was good, but it was just a way to build towards Rock vs. Cena at "Wrestlemania XXVIII". Why am I going to be interested in watching a show that is little more than a glorified commercial?
The next two years would arguably be the lowest point in the history of Survivor Series. "Survivor Series 2012" saw so many roster changes that the big tag match made almost no sense as the captains (one of whom was a manager) didn't really have any issue with each other. The main event was a mostly worthless triple threat, saved only by the debut of the Shield.
"Survivor Series 2013" saw an even more worthless main event as Orton defended the Raw World Title against Big Show in possibly the least interesting title match of all time. It wasn't interesting, it certainly wasn't good, and it accomplished next to nothing. There were two Survivor Series matches on the card as well with the Total Divas vs. True Divas match being a strong candidate for worst match of the year and the other being little more than a Roman Reigns showcase.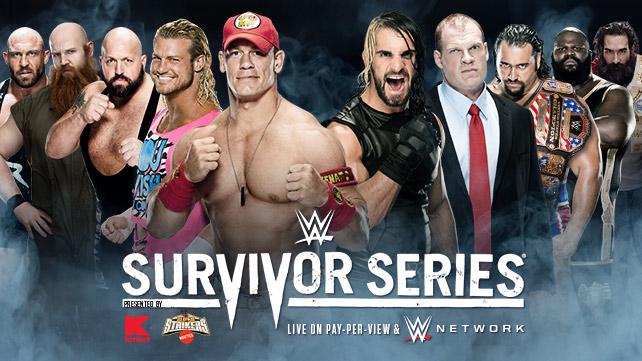 (Photo Courtesy of Bleacher Report)
Thankfully things would pick up a bit in the last two years with "Survivor Series 2014" being for control of the company again with Sting debuting (only about thirteen years after people had been hoping he would) in an amazing moment. "Survivor Series 2015" was centered around a tournament for the WWE World Title, which was basically out of necessity due to an injury.
The tournament was a nice idea as it fits the idea of survival and actually accomplishes a goal. This would be the case multiple times over the years, including two tournaments and the Elimination Chamber back in 2002. While it's not exactly the same concept as an elimination tag, all three of them were nice changes of pace and fit the idea well enough, which was a big improvement.
I think I've made the idea pretty clear. Much like any wrestling show, Survivor Series only works when the matches feel important. I need a lot more than just having eight to ten people thrown together for an elimination tag which doesn't mean anything. While you can't have a big stipulation on every match, at least try to make the matches feel important. I know it's asking a lot to have WWE actually put that kind of effort into the storytelling but it can do a world of good.
We'll wrap things up on Friday by looking back at how Survivor Series has offered more historical moments than almost any other series over the years.
Remember to check out my website at kbwrestlingreviews.com, follow me on Twitter @kbreviews and pick up my new book, KB's Complete 2014 Raw and Smackdown Reviews Part I at Amazon for just $3.99 at:
https://www.amazon.com/dp/B01LY6766K#nav-subnav
And check out my Amazon author page with cheap wrestling books at:
http://www.amazon.com/Thomas-Hall/e/B00E6282W6