Pay per view came into existence in WWE in 1985 with "The Wrestling Classic". Starting there and going through "Hell in a Cell 2016", there have been 317 American pay per views, meaning there have been 317 American pay per view main events. Therefore, I present you with the following totals.
These 317 matches include (not all inclusive):
218 singles matches (includes all gimmick variations)
14 tag matches
1 Championship Scramble
9 Elimination Chambers
3 Money in the Bank ladder matches
23 Royal Rumbles
3 Six Pack Challenges
11 Survivor Series elimination tags
25 triple threats
That's quite a few matches over the last thirty one years. For now though, only one number matters:
1 Women's Title match.
This past Sunday at "Hell in a Cell 2016", Charlotte defeated Sasha Banks in the first ever all women's pay per view main event. Over 300 pay per view have come and gone over the years and this has never happened before. It's certainly not a stretch to say this is the biggest match in the history of women's wrestling, though that's really not a hard accomplishment to overcome. Let's take a look back at the benchmarks for women's wrestling (at least in America) over the years.
We'll start back on July 23, 1984 at the "Brawl to End it All", which wasn't a pay per view but rather a live special airing on MTV. This was part of the Rock and Wrestling Connection and helped launch the WWF, and professional wrestling as a whole, into the eye of pop culture where it would thrive for years to come.
This match was more about the managers at ringside as the wrestling was more of a backdrop than anything else. Around this time, heel manager Captain Lou Albano had appeared in some music videos with rock megastar Cyndi Lauper. However, Albano then went on a chauvinist tirade against Lauper, igniting a major feud between the two.
Since Lauper wasn't a wrestler, the solution was to have both her and Albano train a wrestler for a major match. Lauper chose fan favorite Wendi Richter while Albano chose the WWF Women's Champion, who was coming up on twenty six straight years as champion (not a typo, though the reign wasn't actually uninterrupted).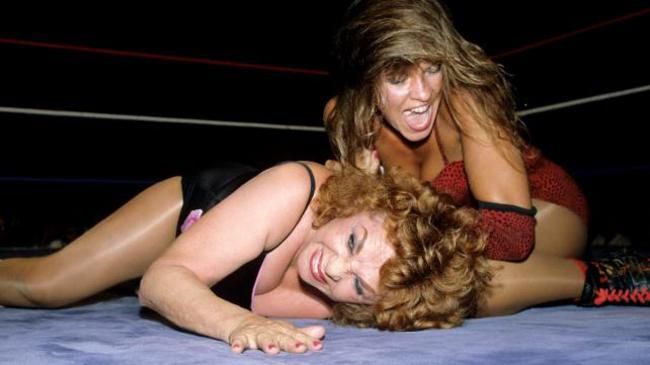 Richter won the match, which was an absolute disaster. The wrestling just wasn't there but it was certainly a major milestone. Richter would go on to become a huge star in the company, even main eventing the occasional house show. While certainly not a technical masterpiece, this was easily the biggest match two women had ever had.
After that it's a pretty long wait as we have to jump ahead to December 6, 2004 on "Monday Night Raw". For most of the late 1990s, women's wrestling was barely a thing. Many of the title matches were some variation on a match involving women losing clothing. If they could do a slam or throw a punch so be it but that was far from the most important aspect of their abilities.
However, things were starting to change and most of that was due to two women: Trish Stratus and Lita. These two may not have been the best performers in the world and were at least partially eye candy but they were miles and miles ahead of almost anything else in recent years. If nothing else, they were treated as a serious act who could have some good wrestling matches.
Stratus, the traditional blonde bombshell, had dominated the title for a few years. Lita, the foxy redhead, was an athletic freak who wrestled a lucha libre style and became a strong fan favorite. However, Lita would suffer a severe neck injury and be on the shelf for almost a year and a half. This was followed by a long storyline pregnancy that kept her out of the ring. Stratus made fun of Lita for months, knowing Lita couldn't fight back.
That changed when the pregnancy storyline ended and Lita received a title shot in her home state of North Carolina. In the main event of the night, Lita won the title following her signature moonsault. The first part of that sentence is the most important: this match was the main event. It wasn't the match that happened to go on last and then we got the important segment. Lita vs. Stratus was built up as the undisputed main event of the evening and there was nothing else after. The show ended with Lita celebrating her new championship.
Women's wrestling would go into hibernation again until a little thing called NXT came along. With a new attention to detail, the women's division started to make noise, eventually leading to some of the matches drawing critical acclaim. Suddenly, the women's match was a featured attraction instead of something to be used as a break from the real action. This movement was spearheaded by the Four Horsewomen: Bayley, Becky Lynch, Charlotte and Sasha Banks.
On the July 13, 2015 episode of "Monday Night Raw", Charlotte, Banks and Lynch all debuted on the main roster. After a long stretch of six women tags in a feud that didn't exactly go anywhere, Charlotte captured the Diva's Title at "Night of Champions 2015" and held it up to "Wrestlemania XXXII". At that show, the title was retired and replaced by the WWE Women's Title.
However, you aren't just handed a title, even if you had been champion for six months. This meant that the winner of a triple threat match between Charlotte, Banks and Lynch would win the inaugural title. The women stole the night and had what might have been the match of the night, easily setting a new standard for women's wrestling.
That standard wouldn't even make it to the end of the year though as Charlotte and Banks main evented a pay per view. I don't think the importance of that has really set in yet. Think back to the days of the bra and panties matches or the eight plus year stretch where a Women's Title match didn't break ten minutes on pay per view. On Sunday night, the women were the headliners. That's never happened before and the fact that it took place (and was even a good match) really does mean that things are changing, and changing for the better.
Remember to check out my website at kbwrestlingreviews.com, follow me on Twitter @kbreviews and pick up my new book, KB's Complete 2014 Raw and Smackdown Reviews Part I at Amazon for just $3.99 at:
https://www.amazon.com/dp/B01LY6766K#nav-subnav
And check out my Amazon author page with cheap wrestling books at:
http://www.amazon.com/Thomas-Hall/e/B00E6282W6