When we last left this show, Survivor Series was in some trouble. I mean, I for one was sure that having a big match where they just put people together for the sake of having them come out again later and a dancing mascot would have been enough to keep the audience but those greedy people still wanted more. At the end of "Survivor Series 1990", it was clear that the show needed a regular main event to really draw the fans in because a team match being used as a stepping stone in a standard rivalry wasn't enough to get people involved.
After his debut at "Survivor Series 1990", the Undertaker took the WWF by storm in his first full year with the company. It was such a roll that he received the WWF World Title shot against champion Hulk Hogan at "Survivor Series 1991" in the first singles match in the history of the event. Dubbed "the Gravest Challenge", this was the undisputed biggest match on the card and was a bit easier to market than another elimination tag match between two groups of wrestlers.
Undertaker won the match and the title (with help from Ric Flair and a BIG ovation from the Detroit crowd) with a Tombstone onto a chair, making him one of the biggest surprise champions in a long time. Possibly more important than the title though (which Undertaker would lose a mere six days later) was the fact that Survivor Series was now a show that Undertaker was starting to make his own. In two appearances he had appeared and won the WWF World Title. It was the start of a legacy that would continue for years to come and Undertaker never really looked back.
The show might have been too much of a success for Survivor Series' own good. Things changed all over again the next year though as "Survivor Series 1992" was almost completely lacking elimination tags. The lone exception was another tag team match with four teams, but a single elimination would get rid of an entire team. The show really didn't feel like anything special as most of the card was spent on nothing matches, save for a casket match between Kamala and the Undertaker, whose win kept him undefeated with a record of 3-0.
In addition to all this though, the main event really was a change of things to come in the future. The new WWF World Champion Bret Hart defended against Intercontinental Champion Shawn Michaels. While their futures at this show would become much more intricate over the next few years, this was the first time the two of them had a major match on the big stage. Interestingly enough, it wasn't even their first interaction at Survivor Series. Back at "Survivor Series 1988", the two of them teamed together in the big tag match, the only time they were on the same team in their careers.
This was another big change of pace not only for Survivor Series but for the WWF as a whole. Never before had two smaller wrestlers main evented a pay per view in this company (Unless you consider the British Bulldog to be a smaller wrestler, which I don't think many do. You could argue this had happened at "Wrestlemania IV" but Randy Savage vs. Ted DiBiase wasn't an advertised match). This was a new idea and signaled a change of direction for the company as things would start to shift towards the lighter wrestlers on top after years of big muscle guys.
We'll jump ahead to "Survivor Series 1996" and one of the biggest editions of the show ever. It's rare to have a show with a classic match, a title change and a major debut but this one checks all of the boxes on the list, with a few bonuses of legends appearing (Jimmy Snuka and Jake Roberts), a few gimmick changes (Faarooq starts wearing his Nation of Domination gear) and a new team debuting (Doug Furnas/Philip Lafon).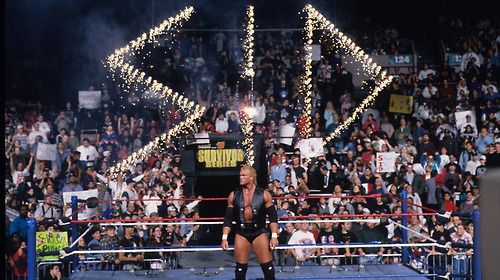 However, there are some major deals that took place here and we'll start with the least important: the crowning of a new WWF World Champion. Sid managed to knock off WWF World Champion Shawn Michaels with the help of a camera, earning the first singles title of his career. This marked the end of a pretty rough stretch for the company as WCW's NWO angle was crushing the ratings war and it was clear that something had to change, meaning Michaels losing the title. It doesn't mean much at the moment but this would lead to bigger things going forward.
Other than that, there's the whole instant classic between Hart and Steve Austin, the latter of whom was immediately turned into a star after an amazing performance on the show. Of course their best remembered match was at "Wrestlemania XIII" but a lot of people consider this to be their best match. They traded holds and counters for nearly half an hour until Hart pulled off a quick pin by countering a Million Dollar Dream. Austin would become a star and it started right here.
Speaking of people who became stars, this show also saw the debut of a third generation star named Rocky Maivia. For weeks leading up to the show, the announcers talked about what a can't miss prospect Maivia would be. While it felt like hyperbole at the beginning, it turned out to be some of the biggest underselling in wrestling history. It's very rare to see someone treated like a big deal from the day they debut and then live up to every bit of their potential and more but that's exactly what Maivia did.
Survivor Series was rapidly suddenly becoming a can't miss show because things were starting to happen. Be it the WWF World Title changing hands (as it did in 1991, 1995 and 1996) or the debut of a big name, the show was suddenly a big night on the calendar. That would be the case again as we head into 1997 and a Wrestlemania rematch over eighteen months in the making. However, much like Maivia, no one had any idea how big the show would become. This Friday, we go to Montreal.
Remember to check out my website at kbwrestlingreviews.com, follow me on Twitter @kbreviews and pick up my new book, KB's Complete 2014 Raw and Smackdown Reviews Part I at Amazon for just $3.99 at:
https://www.amazon.com/dp/B01LY6766K#nav-subnav
And check out my Amazon author page with cheap wrestling books at:
http://www.amazon.com/Thomas-Hall/e/B00E6282W6