Main Event
Date: June 13, 2019
Location: SAP Center, San Jose, California
Commentators: Byron Saxton, Renee Young
I don't know anymore man. Not that I don't know what was on the shows this week or what to expect from Main Event, but that I don't know how much worse things can get as we keep going forward. Raw and Smackdown are pure disasters at this point and somehow the shows are getting worse every week. Let's see how they spin that this time around. Let's get to it.
Opening sequence.
Titus O'Neil/No Way Jose vs. Viking Raiders
Jose tried to dance with Erik to start and gets dropped with a single shot to the face. Ivar comes in and gets his own shows on Jose, followed by the slam from Ivar to send Erik onto Jose. The chinlock goes on for a bit until Jose comes back with a neckbreaker. That's enough for the tag off to Titus so house can be cleaned. Jose tags himself back in though and it's the high crossbody for two on Erik. Not that it matters as the Viking Experience finishes Jose at 4:03.
Result: Viking Raiders b. Titus O'Neil/No Way Jose – Viking Experience to Jose (4:03)
We look back at Shane McMahon defeating Roman Reigns at Super ShowDown.
From Raw.
And now, Shane McMahon's victory celebration. Drew McIntyre is with him and we have live bagpipe players to play him to the ring. Shane talks about growing up in WWE and recognizing special things. That would apply to Roman Reigns, who is a first ballot WWE Hall of Famer. Reigns hits like a mule and has beaten the best WWE has to offer. However, Reigns does not have a victory over Shane because Shane beat him at Super ShowDown. Shane thanks Drew for his preparation but gets cut off by a BORING chant. Shane: "Get used to it. It's my celebration and I've got all night."
Drew calls Shane the Best in the World but he's the most dangerous man in the world. At Stomping Grounds, he's going to give Reigns the beating he deserves and beat him 1-2-3. Shane: "You're so intense dude." Shane drinks out of the Best in the World cup before bringing out the Revival. They can't drink though because they have a Tag Team Title match up next. They can join the party, provided they win some gold.
It's worthy of a celebration: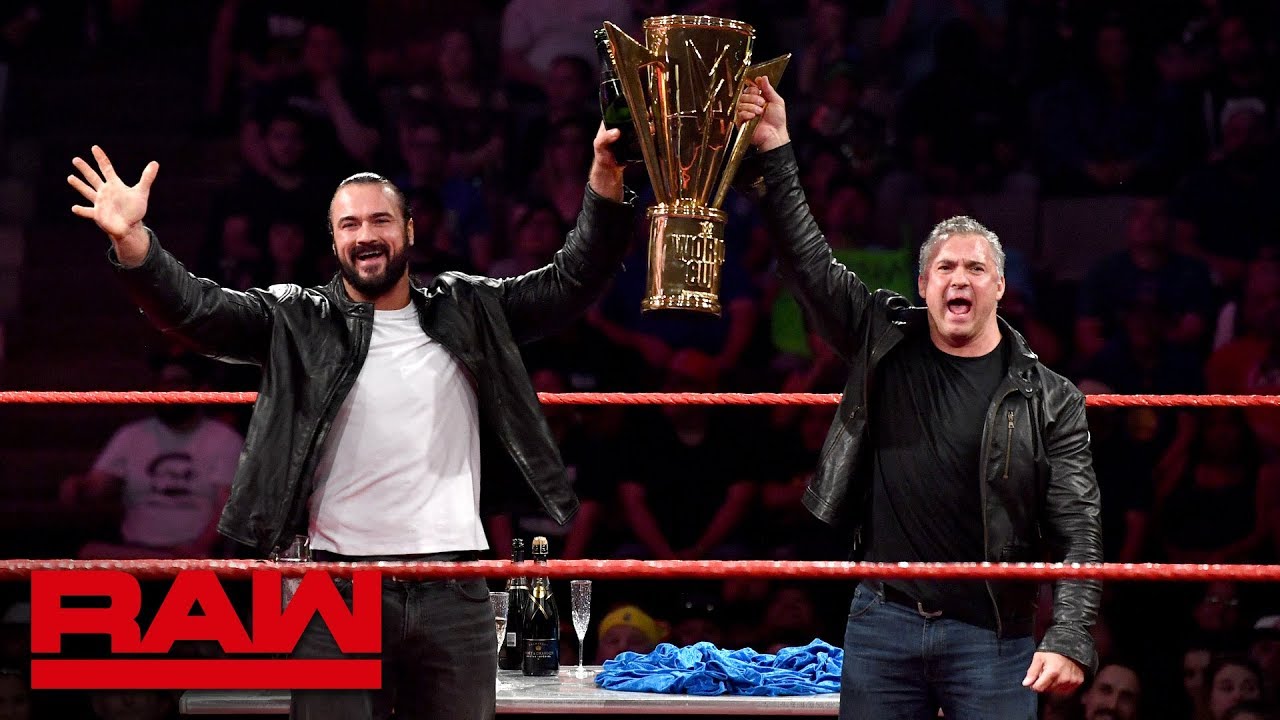 We look at Seth Rollins defeating Baron Corbin and then fending off a Brock Lesnar cash in attempt at Super ShowDown.
From Raw.
Seth Rollins vs. Kevin Owens
Non-title with Sami Zayn as outside referee. Sami checks Rollins, with the taped up ribs, for weapons and does a much faster check of Owens. They start slowly with Owens working on a wristlock and then an armbar. That's broken up with some spinning and flipping but Sami offers a distraction so a rollup gets a delayed two. Rollins goes to yell at Sami, allowing Owens to send him outside.
A DDT on the floor drops Rollins and we take a break. Back with Rollins jawbreaking his way to freedom from a chinlock. Owens finally wakes up and goes after the taped up ribs with a backbreaker. A dropkick and forearm to the back but the Sling Blade gets Rollins out of trouble. The ribs go out on a suplex attempt but Owens' Swanton hits knees.
An exchange of superkicks lets Rollins hit an enziguri but Sami comes in to check on Sami before the frog splash can loss. Rollins low bridges Owens to the floor and hits a suicide dive to take out both villains. The Stomp connects but Sami pulls the referee out at two. Sami takes his place so Seth grabs him by the shirt, earning a DQ at 12:01.
Result: Kevin Owens b. Seth Rollins via DQ when Rollins grabbed the referee (12:01)
You can't do that: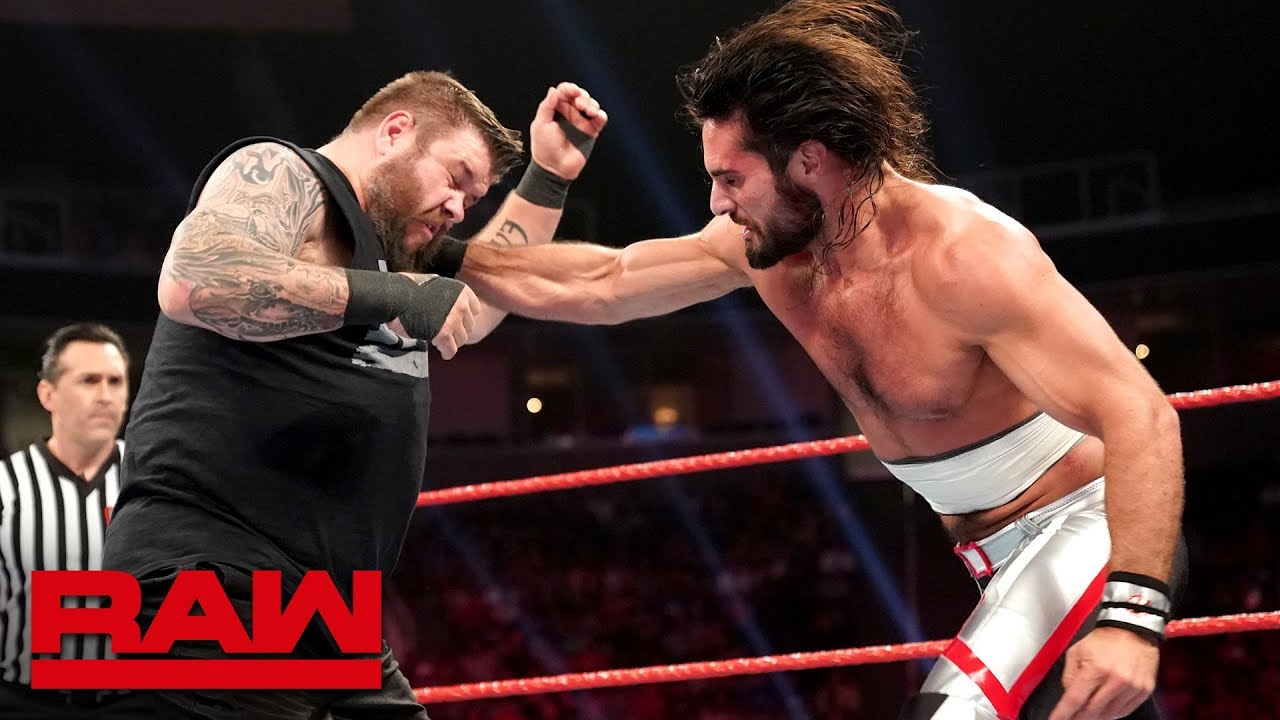 Post match Corbin comes in and grabs a chair but Rollins takes it away and chases him off. Sami gets chaired down with Rollins exploding as Cole talks about everything he's been through over the last few weeks. Rollins hits the Stomp on Sami to end the show with no announcement being made on the guest referee.
Natalya vs. Sarah Logan
They go with the grappling to start with Logan's headlock not getting her anywhere. Natalya's works a bit better until she lets it go and yells at Logan instead. It's off to a leglock on the mat to keep Logan down but that's reversed into a quickly broken choke. The Sharpshooter attempt is broken up and Logan sends her throat first into the middle rope as we take a break.
Back with Natalya being sent face first into the mat for two, followed by a dropkick for the same. The standing Texas Cloverleaf is broken up and Natalya comes back with the discus clothesline. Back up and another shoulder takes Logan down but the Sharpshooter is broken up. Logan misses a missile dropkick and now it's the Sharpshooter to make her tap at 11:21.
Result: Natalya b. Sarah Logan – Sharpshooter (11:21)
Stomping Grounds rundown.
From Smackdown to close us out.
New Day vs. Dolph Ziggler/Kevin Owens/Sami Zayn
Woods and Ziggler start things off with Ziggler taking him to the mat and handing it off to Sami for an armbar. Sami gets taken into the corner for the Unicorn Stampede but Kofi gets sent outside so Ziggler can get in a cheap shot. Owens adds a backsplash on the floor and we take a break.
Back with Kofi fighting out of Ziggler's Crossface and dropkicking Sami down so Woods can come in off the hot tag. A discus forearm has Sami in trouble and a dropkick through the ropes hit Sami and Ziggler. Back in and Ziggler takes Xavier down into a chinlock with a bodyscissors, followed by Sami getting in a chinlock of his own. Owens comes in and gets DDT'd, allowing the real hot tag off to Big E. That means a bunch of suplexes but the Midnight Hour is broken up. Ziggler superkicks Sami by mistake, setting up Trouble in Paradise to Ziggler and another to finish Sami at 13:31.
Result: New Day b. Dolph Ziggler/Sami Zayn/Kevin Owens – Trouble in Paradise to Zayn (13:31)
Their team has a full power bar: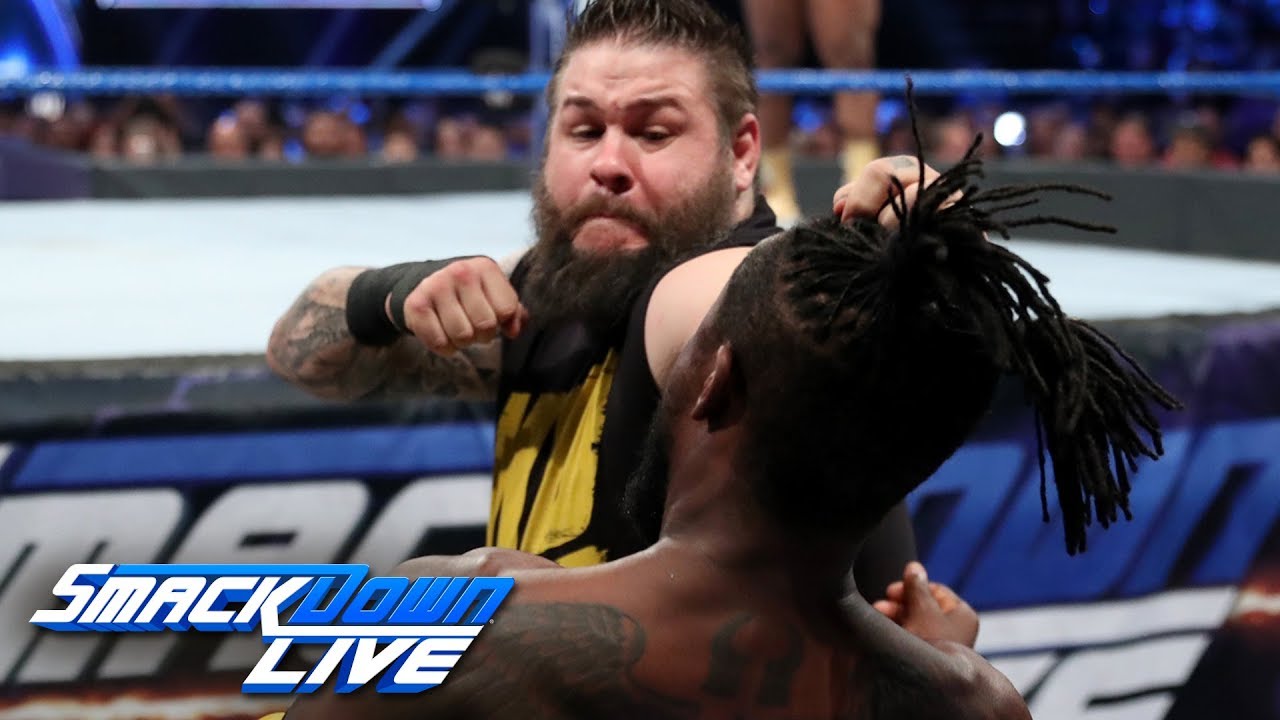 Thomas Hall has been a wrestling fan for over thirty years and has seen over 50,000 wrestling matches. He has also been a wrestling reviewer since 2009 with over 5,000 full shows covered. You can find his work at
kbwrestlingreviews.com
, or check out
his Amazon author page
with 28 wrestling books. His latest book is the History Of In Your House.
Get the latest and greatest in professional wrestling news by signing up for our daily email newsletter. Just look below for "GET EXCLUSIVE UPDATES" to sign up. We are proud to offer our popular Wrestling Rumors app and encourage you to download it for an optimized user experience. It is available for Android and also on iOS. Thank you for reading!