So it's almost Thanksgiving, which means the start of the holiday season. We're just past what used to be known as the Thanksgiving Night Tradition and then the Thanksgiving Eve Night Tradition and now just something around Thanksgiving, so let's take a look at what wrestling has done with various other holidays over the years. Some of these holidays are bigger than others and yes I'm aware I'm probably stretching at times.
These are in calendar order and of course I'm going to miss a few.
We'll start with New Year's Revolution, which is about as self explanatory as you're going to get. In the first week of the year, WWE would hold a mostly nothing show with a single big main event to try and make up for the rest of the horrible card. This meant two Elimination Chambers, but there's only so much you can do when the undercard features a Jerry Lawler match in consecutive years.
As bad as the cards were, there's one very famous moment from the 2006 edition: Edge became the first man to cash in Money in the Bank briefcase. This is still the standard bearer for the cash-in and gave Edge his first of many World Titles. Even though Edge would lose the title back to Cena just a few weeks later, this was a heck of a moment that WWE has tried to repeat since to far lower returns.
The 2005 and 2006 versions of New Year's Revolution were absolutely dreadful but the final version, held in 2007, was actually a pretty solid show with a main event of John Cena defending the Raw World Title against Umaga. Other than that and a good Rated RKO vs. D-Generation X match, there's just nothing worth talking about from a quality perspective. New Year's Revolution really didn't need to exist it's not much of a surprise that the series was dropped in a hurry.
Valentine's Day isn't exactly a holiday that has gotten a lot of coverage but there are two events named after the day. First up we have Clash of the Champions #5: St. Valentine's Day Massacre on February 15, 1989. This was still at the early end of the series, meaning the show still felt like a big deal. However, this edition was just a warmup for the upcoming Chi-Town Rumble pay per view, meaning almost nothing mattered in the slightest.
The Valentine's Day show that you might actually remember is….well it's also called St. Valentine's Day Massacre because it's kind of hard to make Valentine's Day sound intense. The nineteenth In Your House isn't the strongest wrestling show (such is life in 1999 WWF) but the ending saw the debut of the Big Show, who popped up through the ring and attacked Steve Austin, nearly costing him a cage match against Vince McMahon. It's not a great match or show but it was one heck of a moment.
Wrestling doesn't have much of a history on Mother's Day but the first In Your House was subtitled Mother's Day Mayhem. Unfortunately, this show is like slapping your mother in the face with a dead halibut and then using it to floss your teeth. The main event was a dreadful WWF World Title match as Diesel defended against Sycho Sid as part of one of the worst main event feuds in company history. Save for a good Bret Hart vs. Hakushi match, this is one of the worst Mother's Day presents you could ever give someone.
Now we get to a big one which is also somewhat cheating. The Great American Bash (originally a tour that became a regular pay per view both in WCW and WWE) never was quite a Fourth of July themed show but it was as close as we're going to get in wrestling. If nothing else a lot of the tours had shows on the holiday, including one in particular.
In 1987, the NWA ran a Great American Bash show at the Omni in Atlanta, Georgia. The show was fairly long with a twelve match card but the main event saw the debut of WARGAMES, the ultimate in team gimmick matches. If you're a fan of big gimmicky matches and somehow haven't seen this before, do yourself a favor and go find a copy of it because this is violent, bloody and pure carnage with the top stars of the NWA. You owe it to yourself to exercise the freedom to watch over the top gimmick matches and Ric Flair taking a beating.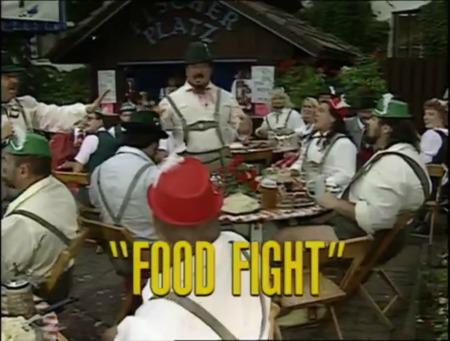 You know what I think wrestling needs more of? WWF wrestlers making jokes about Bavarian creaming opponents, a sausage stuffing contest and a big food fight. This is a good example of a show where they knew what they were doing and going for without trying to be overly intelligent. I can go for a comedy show where they're just presenting what they have and not trying to make it anything more than that.
Next up is one of the bigger ones with Halloween. Both major companies had their own series celebrating this holiday and we'll start with the less direct version. Over in the WWE, it's not a stretch to say that Hell in a Cell is the annual Halloween show. It's all about the violence and the carnage and the fear of the Cell, which fits in perfectly with the Halloween theme. However, there's an easier idea to swap with this show for a Halloween event.
That would of course be Halloween Havoc, WCW's annual over the top "spooky" show. If there was one area WCW could massacre WCW in, it was pay per view sets. This gave us some great Halloween Havoc sets over the years, including the giant demon holding a hue pumpkin and a bunch of graveyard sets. The shows tended to be horrible but you can't fault WCW for not putting in the effort on the atmosphere.
In another holiday the major companies battled over, we have the day that comes up tomorrow with Thanksgiving. This was a big battleground for WWF vs. WCW with Survivor Series vs. Starrcade. We'll start with the show that came first in Starrcade, the NWA/WCW flagship event.
Starting back in 1983, Starrcade was the epitome of the major show with stars from all over the country coming in for special matches. While the show would decline over time and eventually move towards the Christmas season, make no mistake about the fact that this was an incredibly important show and the first regular national supershow to be held annually.
Unfortunately for Starrcade, it ran into the juggernaut that was the WWF, which basically destroyed Starrcade with the power of Hulk Hogan vs. Andre the Giant in 1987 with a new show called Survivor Series. Built on the idea of the elimination tag match, Survivor Series has stuck around for nearly thirty years and continues to be one of the most important shows of the year. On top of that, it introduced us to the Gobbledy Gooker and you just can't beat that.
Finally we have Christmas, which is actually a perfect wrestling holiday. Consider a quote from Fritz Von Erich: "Once you open the presents, what else is there to do all day?" It turned out that he was absolutely right and Christmas has become a fairly strong time for wrestling with a string of holiday shows.
In addition to the series of shows called Season's Beatings (Clash of the Champions IV and In Your House V), there's also the regular Christmas themed episode of Raw or Smackdown. While there are several of these to pick from (including an episode of Raw on Christmas night in 2001 with Rock vs. Chris Jericho in a great match), the undisputed greatest of them all is from 2013.
That would be the night when Mark Henry, the good Santa, fought Damien Sandow, the bad Santa, to save Christmas. Let me repeat that: a 400lb strongman with a theme song about splitting wigs fought a Latin speaking know-it-all to save Christmas. If you don't understand why this is one of the greatest Christmas gifts of all time, you really don't get how entertainment works.
Wrestling and holidays go together rather easily with the shows being able to be tailored to whatever time of the year it is. Almost every wrestling company has made the idea work to various degrees over the years and there have been enough entertaining shows to keep up the traditions. Some are better than others but when a wrestling company gets a holiday show right, it can be a lot of fun.
Remember to follow me on Twitter @kbreviews and pick up my new book, KB's Complete Monday Nitro and Thunder Reviews Volume V at Amazon for just $3.99 at:
And check out my Amazon author page with cheap wrestling books at:
http://www.amazon.com/Thomas-Hall/e/B00E6282W6