When you really think about it, no other pay per series has produced more major debuts than Survivor Series. We're going to wrap up the history today by looking at the biggest names to debut at the show, which is really one heck of a lineup. These are in no particular order and isn't meant to be comprehensive.
We'll start with one of the biggest names of all time and probably the most famous Survivor Series debut. Way back at "Survivor Series 1990", the Undertaker made his debut as a mystery partner on Ted DiBiase's team. Less than two minutes after the bell, Koko B. Ware became the first victim of the Tombstone Piledriver and the next twenty six years became history.
What made Undertaker work so well was how perfectly Mark Calaway plays the character. The Undertaker isn't someone that anyone could play because it takes a certain kind of mannerisms to really make it work. Undertaker is just perfect with the cold stares and slow movements that define the early years of the character. You can tell the audience has no idea what to make of the guy and almost no one would for over two decades. For one last bit of trivia, Roddy Piper (doing commentary) said if anyone could figure out Undertaker, Bret Hart could. Over their long careers, Undertaker never beat Hart (save for one house show).
Next up we have someone who was a bit more of a guarantee based on everything that he had done before coming to the WWF. At "Survivor Series 1999", Kurt Angle debuted and mauled Meat in a rather long six minute squash. Angle was such a goon upon his debut that it's almost scary how good he would wind up being. Basically Angle was some American role model who only drank milk and told us all to work hard while also being a huge dork. The fact that he could destroy anyone on a wrestling mat was a detail.
While Angle wasn't the immediate star that Undertaker would become, it was almost impossible to believe that someone could become so hot so fast. Angle went from another amateur wrestler to one of the biggest stars in the company, eventually winning the WWF World Title less than a year later. It's not often that you get someone that over that fast, but it's another great Survivor Series debut.
Now let's jump forward to someone who debuted in someone else's match. During the later stages of a great match in the main event of "Survivor Series 2014", the Authority had Dolph Ziggler in major trouble. That's a bit too much interference though and it was time for someone to come in and make a save. Someone with a long history of standing up to injustice. Someone who liked crows.
Yes after all these years, it was the WWE debut of STING. This was the name that you always thought would never actually show up but here he was, laying out Seth Rollins and giving Ziggler and Team Cena the win over the Authority. It was an amazing moment and something wrestling fans had waited for so long.
Next up: Jazz! The Gobbledy Gooker! Doug Furnas and Phillip Lafon! Flash Funk! Yeah those are people who exist and debuted at Survivor Series too. We'll be moving on now.
In what might be the most debut ever (or at worst second only to Undertaker), at "Survivor Series 1996", Rocky Maivia was presented as the ultimate blue chip athlete and the first third generation athlete in WWF history. This was an interesting case as the company promoted Maivia as the ultimate can't miss prospect and let us know about that for weeks leading up to his debut.
The amazing thing is that no one could have guessed that they were completely underestimating how great Maivia would wind up being. The big goofy grin didn't do him any favors but by the end of the match, Maivia had eliminated Crush and Goldust to give his team the win. It would be the start of one of the biggest careers of all time and all it took was a horrible looking haircut.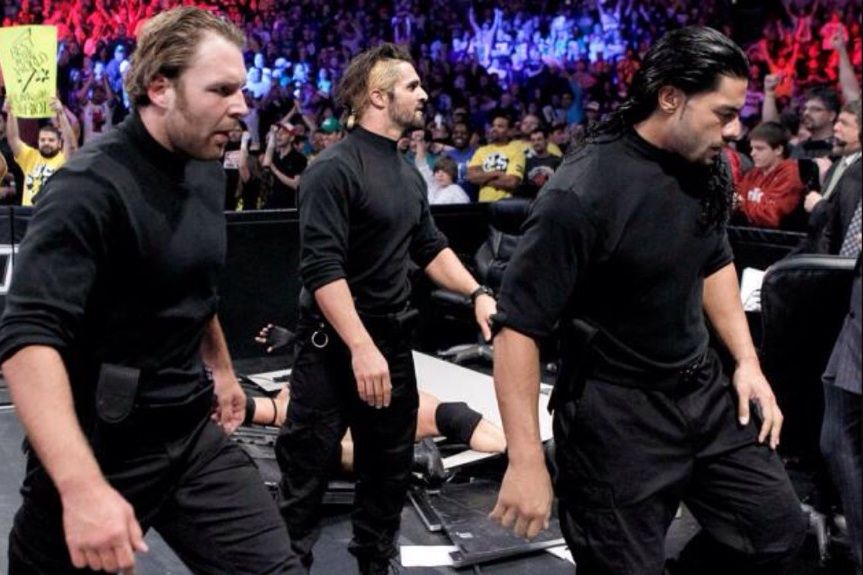 We'll wrap it up with a three for one special. The main event of "Survivor Series 2012" was a triple threat match with CM Punk defending the Raw World Title against John Cena and Ryback. With Ryback hitting Shell Shock and about to win the title, three men in black ran in through the crowd and attacked him, ultimately giving Punk the win to retain the title. Michael Cole identified the men as Dean Ambrose, Seth Rollins and Roman Reigns, the trio later named the Shield.
As I'm sure you've heard since most of the last two and a half years have been stories about the group splitting up, Shield took the company by storm and almost never looked back. There hasn't been a three man unit this dominant since the early days of the NWO and the fact that they had come up from NXT (well save for Ambrose but he had been in Florida Championship Wrestling in basically the same gimmick) made it even better. This was a heck of a debut and again, it was hard to imagine how big a deal the three of them would become.
Does anything compare to the Survivor Series in this area? When you think back to great Wrestlemania debuts, who really springs to mind? Sting had his in ring debut a full four months after his debut at "Survivor Series 2014" (and he lost). Fandango debuted and is now lucky to make it to "Main Event". Honestly, is there any other major name worth mentioning? Oh yeah and Big E. Other than Sting, this is a very unimpressive list, even if you add in the few other names that made their debuts there.
Just look back at that Survivor Series list. It's Hall of Famer after Hall of Famer after Hall of Famer and it just crushes everything around it. Not only do you get some great matches at Survivor Series, but you never know when you're going to see a legend debut. What might be even more impressive is how rarely these appearances occur in a Survivor Series match. Often times they either debut in a singles match or by interfering in someone else's match. There's something about Survivor Series that makes for a great debut and there's no other show like it.