205 Live
Date: July 9, 2019
Location: SNHU Arena, Manchester, New Hampshire
Commentators: Aiden English, Nigel McGuinness, Vic Joseph
It's the final show before the Cruiserweight Title match between Drew Gulak and Tony Nese so expect the hard sell towards the title match in a big way tonight. Other than that we have a General Manager who is busy trying to escape the mob chasing after him for the 24/7 Title while trying to spend time with his new bride. Wrestling is a weird place. Let's get to it.
Oney Lorcan, in his stoic voice, talks about tonight's main event against Ariya Daivari being anything goes. He can use whatever he want….and here's Daivari to jump him from behind. Drake Maverick and some referees break it up.
Opening sequence.
Brian Kendrick vs. Sunil Singh
Earlier today, the Singhs tried to give Kendrick a lifetime achievement Bollywood award but yelled about wanting a match instead. During the entrances, Nigel throws out that Drake has immunity from defending the 24/7 Title during the show, so at least that's covered. Singh tries to dance to start so Kendrick punches him in the face and does his own dance. A Sumir distraction works well though as Kendrick gets sent knees first into the steps. Sunil: "YOU SHOULD DANCE WITH US!"
Sunil dances on his own and throws in a hip swivel as he's running through his playbook in a hurry. We get an old Steve Austin camera motion, with Aiden dubbing them the Bollywood Blondes. The backbreaker sets up a missed middle rope elbow and Kendrick nails a leg lariat. Sliced Bread is broken up so Kendrick settles for the Captain's Hook and the tap at 5:05.
Result: Brian Kendrick b. Sunil Singh – Captain's Hook (5:05)
Maybe a dance off would have been better: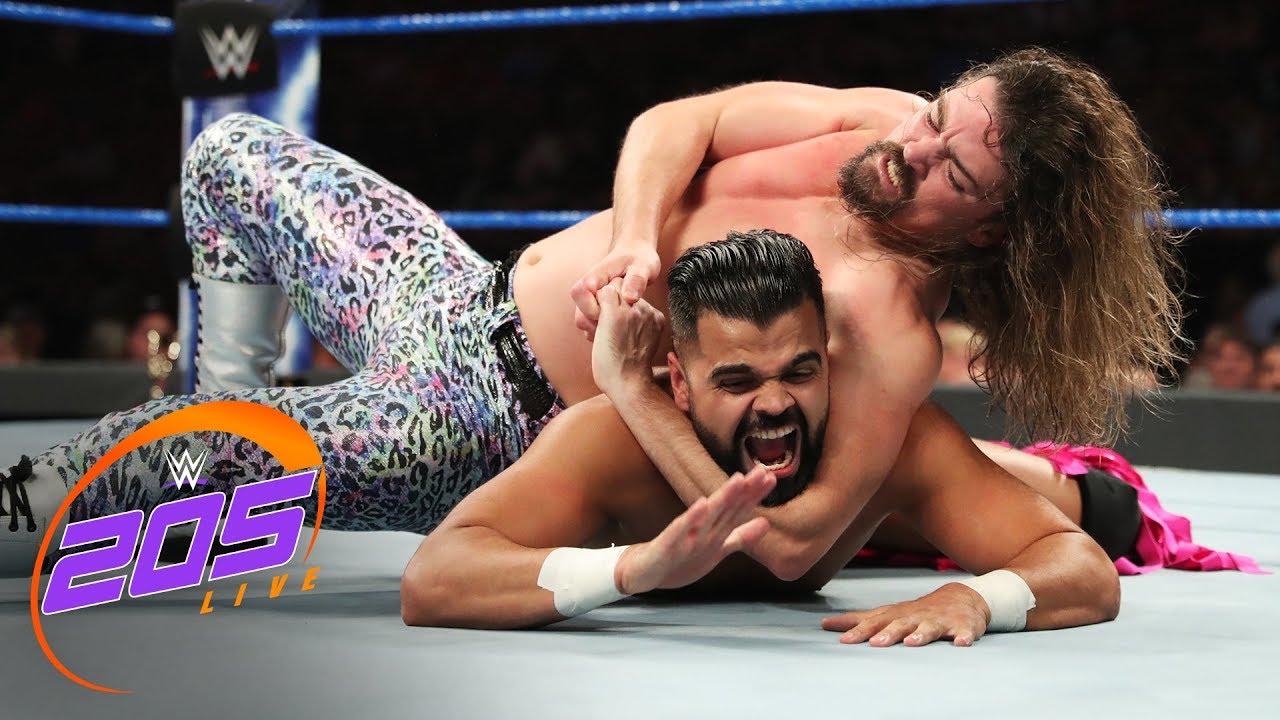 Post match the double beatdown is on until Akira Tozawa runs in for the save.
We get part one (of three) of a biography on Humberto Carrillo. He talks about watching wrestling growing up and his family supporting his decision to become a wrestler.
Jack Gallagher vs. Devin Justin
After a polite handshake, Jack takes him to the mat and starts in on the hand. A fireman's carry hot shot sets up the armbar with Gallagher bending Justin's arms behind him and laying down on them for a painful visual. Gallagher gets creative by tying him into a knot around the ropes for a running dropkick, followed by a delayed suplex. Hold on though as here's Mike Kanellis to start throwing things around as he rants about Drake ruining his life. Now he's going to ruin the show by throwing stuff everywhere. Fans: "WHO'S YOUR DADDY???" Security gets rid of him and it's the headbutt to finish Justin at 3:34.
Result: Jack Gallagher b. Devin Justin – Headbutt (3:34)
Blasted interference: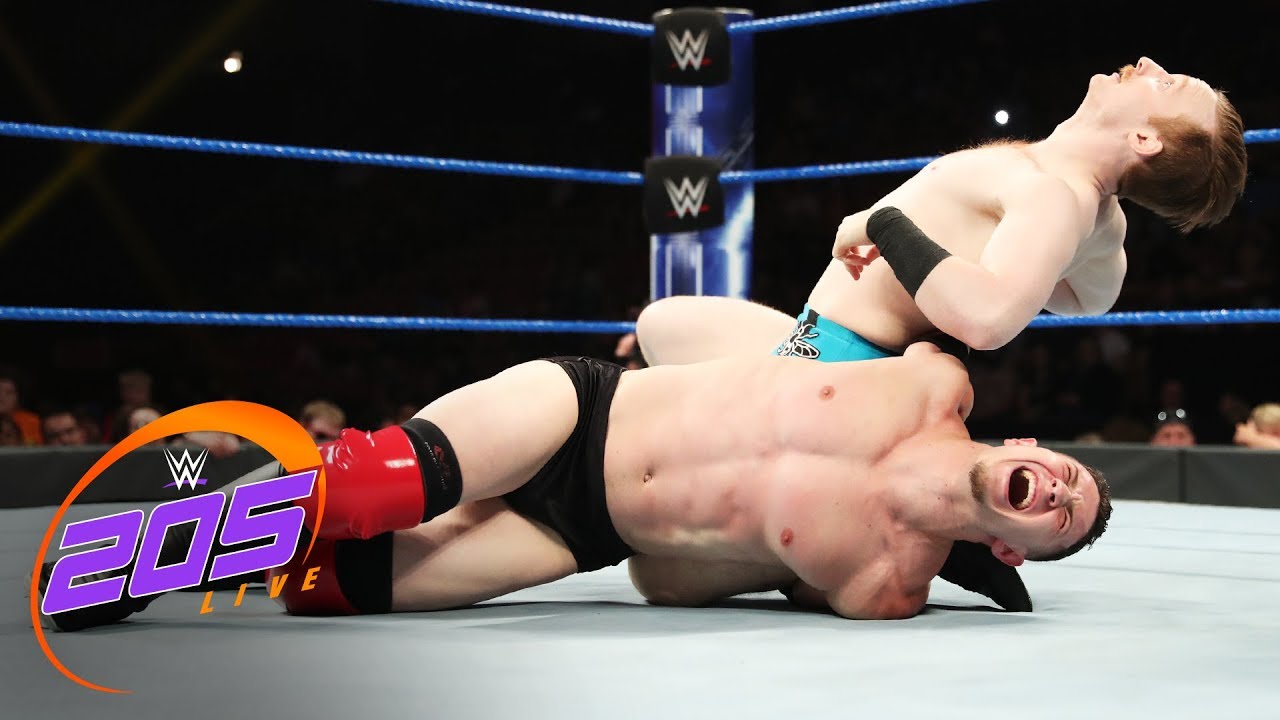 Drake comes up to Mike in the back and apologizes for not being around as of late. He's been neglecting everyone, including his wife, and Mike understands what it's like to have trouble at home. Mike doesn't buy it because Drake caused all of Mike's problems. Therefore, Mike should ruin the show to even things up. Drake understands but is going to fine Mike for his actions. Mike goes into a rant about having a second baby on the way but says he'll do something next week that will get him an even bigger fine.
Oney Lorcan vs. Ariya Daivari
Anything goes. Lorcan charges up the ramp and the fight is on in a hurry. They get inside for the opening bell with Lorcan throwing him right back to the floor. It's already time to throw some chairs inside as Lorcan wants to get violent in a hurry. Some running elbows in the corner have Daivari in trouble but he sends Lorcan over the top to get a breather. Daivari throws in a chain and pulls out a trashcan, with the delay letting Lorcan get in a suplex on the floor.
Let's bring in a ladder, just to crank this one into high gear sooner. First though, the chain is pulled across Lorcan's face, with Nigel saying it's going to be hard to make it look worse. The ladder is set up in the corner with Lorcan sending Daivari into it for the crash. A suplex into the ladder is blocked so Lorcan settles for a hiptoss into the ladder instead. The half and half suplex onto a chair is countered into a reverse DDT, allowing Daivari to grab the chain again.
As Nigel talks about the Roddy Piper vs. Greg Valentine dog collar match, Daivari whips Lorcan into the corner with the chain around the neck. A camel clutch with Lorcan's head inside the chair offers a rather good looking visual with Daivari ripping at the face to make it worse. With the hold not working, Daivari sits him in the chair and punches away but gets caught with a drop toehold into the chair for a double knockdown.
The running Blockbuster puts Daivari on the floor and a fired up Lorcan hits the running dive off the apron. The fans ask for and receive tables but it takes too long, allowing Daivari to hit a superkick. Lorcan rolls outside again but this time he pelts a trashcan at Daivari to knock him out of the air.
It's time for six more chairs with Lorcan setting up for of them in front of the steps. Actually make that six and there is no way this is going to end well. Daivari uses the long breather to get in a shot of his own and a backdrop sends Lorcan off the steps and through all the chairs. Back in and Daivari starts setting up the table but goes for the ladder instead, drawing a YOU ARE STUPID chant.
The Persian Lion splash off the ladder gives Daivari two and you can hear Nigel losing his mind over the kickout. It's time for another table but that one breaks as Daivari sets it up. That means another table with Daivari stacking it next to the previous one. Another splash takes too long though and Lorcan superplexes him through both tables for the pin at 20:56.
Result: Oney Lorcan b. Ariya Daivari – Superplex through two tables (20:56)
The violence was strong here: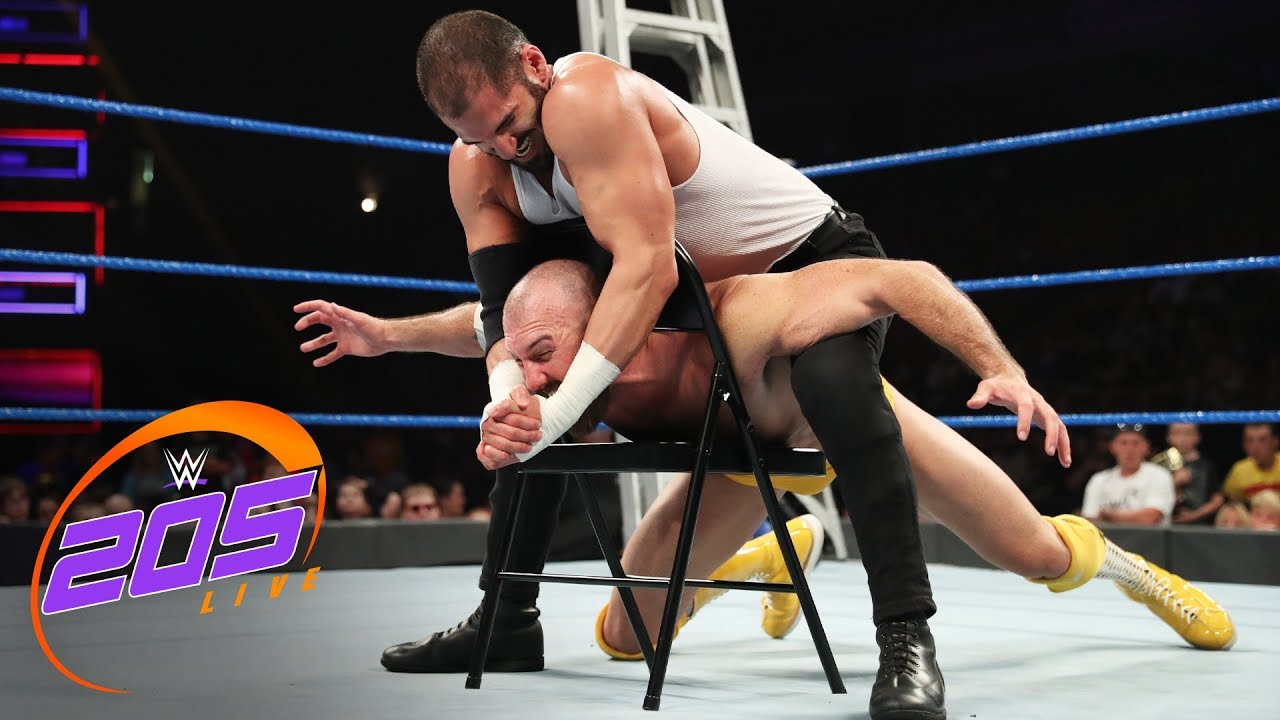 We wrap it up with a long video on Nese vs. Gulak, which hasn't been mentioned up to this point. They were friends for a long time until Gulak realized that he was that much better than Nese. Tony talks about Gulak always being in it for himself but Gulak says Nese only cares about his abs. Nese showed he could get it done by beating Gulak in the #1 contenders tournament and going on to win the title. That made Gulak train even harder because he knew he was alone. It was enough for him to win the title at Stomping Grounds, but now he has to face Nese one on one.
Thomas Hall has been a wrestling fan for over thirty years and has seen over 50,000 wrestling matches. He has also been a wrestling reviewer since 2009 with over 5,000 full shows covered. You can find his work at kbwrestlingreviews.com, or check out his Amazon author page with 28 wrestling books. His latest book is the History Of In Your House.
Get the latest and greatest in professional wrestling news by signing up for our daily email newsletter. Just look below for "GET EXCLUSIVE UPDATES" to sign up. We are proud to offer our popular Wrestling Rumors app and encourage you to download it for an optimized user experience. It is available for Android and also on iOS. Thank you for reading!